Engineered for energy saving applications
The AcRo NEMA Part Night photocell utilises a filtered silicon based ambient light sensor and microprocessor control. This accurate combination provides the best energy savings and reliable operation.
Engineered in the EU, with a 15 year design life and manufactured in-house using only high quality name brand components, the AcRo series photocells are renowned in the industry for their unparalleled quality and reliability.
Early failures are eliminated by an intensive 48 hour burn-in of each photocell. This eliminates infant photocell mortality before our products are shipped.
Switches the light off at a predetermined time for a number of hours each night.
Designed to meet the needs of LED fixtures while still maintaining proven reliability for more traditional technologies.
Energy efficient design with an average power consumption <0.25 watts.
Low Profile enclosure.
A 48 hour operational burn-in test is performed on every unit before leaving the factory.
ROHS compliant.
UV stabilised polycarbonate housing is rated and tested to IP 65.
Electronic design outperforms thermal controls.
Colour option available: blue, green, black, red and clear.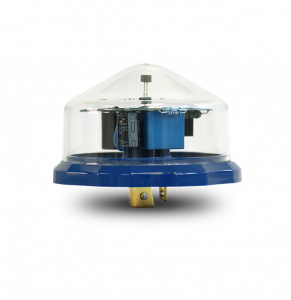 Various applications, the Acro Part Night switches the light off at a predetermined time for a number of hours each night,  for example, on from dusk until midnight, off for five hours, on again until dawn.
Dimensions
86.3 mm Ø x 53.34 mm H
3.4" Ø x 2.1" H
Receptacle Compatibility
NEMA / ANSI C136.10 / ANSI C136.41
Warranty
8 years standard
Mains Supply Voltage
200 - 260 Volts AC 50/60 Hz
Power Supply Consumption
Less than 0.25 Watt
Max Load
10 Amps
Surge Protection
132J standard
320J optional
Load Rating
1800 VA Ballast / 1000 Watts
Operating Temperature
-20° C to +70° C
-4° F to +158° F
Enclosure Protection Rating
IP65 (When Installed)
Standards Compliance
Environmental RoHS, EN55015,
EN61547, EN6100-3-2, EN6100-3-3, ETL
UK 773, CSA 22.2.
IS EN ISO 9001: 2008
ANSI C136.10
Switch 'On' light levels
10 to 200 Lux ± 0.025
1 to 18.5 fc ± 0.025
Switching Ratio
1:0.5 to 1:1.5
Ambient Light Sensor
Color corrected photodiode + amplifier
Switching Time Delay
25 Seconds or as specified
Note: Switch off time can be affected due to geographic and meteorological conditions
Switching Options
Part night.
Various options available